Handwashing – the ultimate defense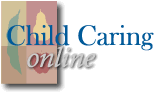 Handwashing – the ultimate defense
Did you know that washing your hands often and well is the single most important factor in preventing the spread of illness? When you forget to wash your hands, you can spread germs to the food you prepare, the surfaces you touch and the children you hold. Forming the hand washing habit can save a lot of suffering.
When should you wash your hands? Every time you turn around! At least it may seem that way when you read the following list:
Wash your hands . . .
before the children arrive

after any cleaning tasks

after coming in from outside play

after touching animals

after using the toilet

after using a tissue or handkerchief

after changing a diaper or helping a child toilet

after covering a cough or sneeze

after touching your face or hair

after smoking

after caring for a sick person

before beginning to cook

after handling raw meat, poultry, fish or eggs

before and after you eat
How you wash your hands is also important. Run warm water over your hands and then apply soap. Lather up the soap on your hands and wrists, rubbing our hands together and making sure to wash well between your fingers. do this for at least 10 seconds. Rinse your hands well, from wrists to fingertips. Dry your hands with a clean paper towel and then turn off the water with the paper towel. It is a good idea to apply lotion after washing your hands to prevent your skin from drying and cracking.
There are a lot of good antibacterial liquid soaps available now. Most come in a pump bottle for easy dispensing and are refillable. Having the children use this type of soap for washing their hands may help cut down on the spread of colds and other illnesses. Be sure to have the children wash their hands often too.
Taking care of children requires lots of "hands on" work. Think of all the times a day you help a child blow his nose, got to the bathroom or wash her face. If you wipe a nose and then serve snack without washing your hands, you may pass along a host of germs to other children and yourself. So wash often and well!